Services
To determine if you have a sleep disorder, our professional staff performs specific tests and evaluates the results. All tests are performed in our sleep laboratory which may require one or more sessions of overnight evaluation. The testing procedure may include one or all of the following:
Intake Assesment & Consultation Report
Nocturnal Polysomnogram Report
Multipe Sleep Latency Test
CPAP & BiPAP Titration
Summary Graphs EKG Monitoring & Reports
Oximeter Data Reports Oxygen Qualifications
Follow-up Program for all Patients
We Offer Services To Many Professionals
Military Personnel
Pilots
Truck Drivers
Personnel who operate equipment and machinery
Shift workers
What You Can Expect?
The first step in diagnosing a sleep disorder is to meet with your health care provider for an initial consultation. If recommended, an overnight sleep study will be arranged during which small electrodes will be attached to the surfaces of your scalp, face and legs to record your sleep patterns.
The monitoring and testing procedure are pain free and the devices themselves will not restrict you from movement. While you sleep, computerized monitoring systems will record brain waves, muscle activity, respiration and heart rhythms. Because it is a non-invasive procedure, no needles or catheters are used during the study.
For our pediatric patients, cribs are available and an extra bed is provided for the parent/guardian who will stay the night to comfort their child. After evaluation and testing, results will be discussed in detail with you and your primary health care provider and together, with our specialists, a plan of care on how the disorder can be effectively managed through one or more of the following: weight loss, behavioral therapy, medication, surgery, and the uses of the CPAP device during sleep will be developed.
Most insurances and managed care plans cover the cost of sleep testing and our Center's staff can help you obtain the necessary pre – authorizations from your health plan.
The Feeling of Home
At our accredited Center, an overnight stay is much like staying at a fine hotel. Upon checking in between 7:00 p.m. and 8:30 p.m., you will have an evening snack in a quiet, contemporary decorated private room with queen-sized orthopedic bed, plush bedding, internet access, and remote controlled TV with cable. Your own private bathroom features an array of luxurious amenities.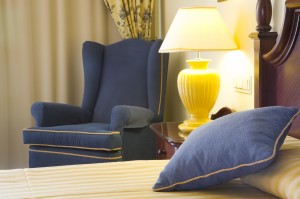 Awaiting you when you rise the next morning will be fresh coffee, tea or hot chocolate and a continental breakfast. A complete lunch will also be provided if you stay for a morning test. For those having an overnight sleep study, free parking or a shuttle service to and from your home is available.